Shaved Brussel Sprout & Kale Salad with Pecans
INGREDIENTS:
4 cups Brussel sprouts, shredded
4 cups shredded baby kale
1 green apple, shaved thinly
1 thinly sliced red onion
1 cup candied pecans
1/3 cup parsley
Salt and pepper
DRESSING:
1/2 cup olive oil
1/4 cup balsamic vinegar
1 tablespoon brown sugar
1 tablespoon Dijon mustard
Dash of Worcestershire
1 garlic glove
DIRECTIONS:
Whisk vinegar, mustard, Worcestershire sauce, brown sugar, and minced garlic clove in a bowl.
Slowly whisk in oil until emulsified.
Season with salt and pepper, to taste.
In a large salad bowl, mix shredded Brussel sprouts, baby kale, apple, and red onion.
Coat the salad with dressing evenly.
Top with candied pecans, parsley, and season with salt and pepper, to taste.
INGREDIENTS:
7 pears, sliced in wedges
5 oz. Blue cheese
4 oz. prosciutto
Maple syrup, drizzled to taste
Freshly cracked pepper to taste
DIRECTIONS:
On a serving plate, place blue cheese crumbles evenly on sliced pear wedges and wrap with prosciutto.
Drizzle each wrap with maple syrup and season with pepper to taste.
Serve with Clos du Bois Chardonnay.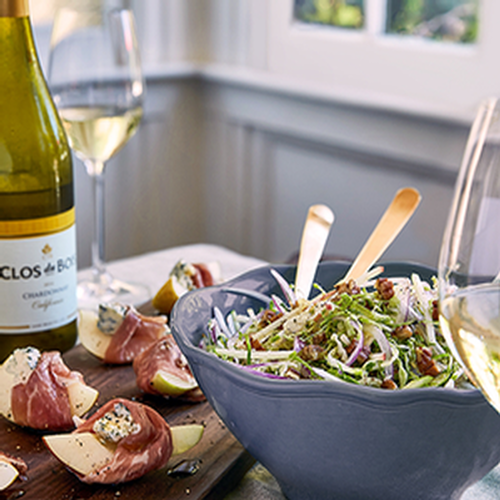 Pair with Clos du Bois Chardonnay.